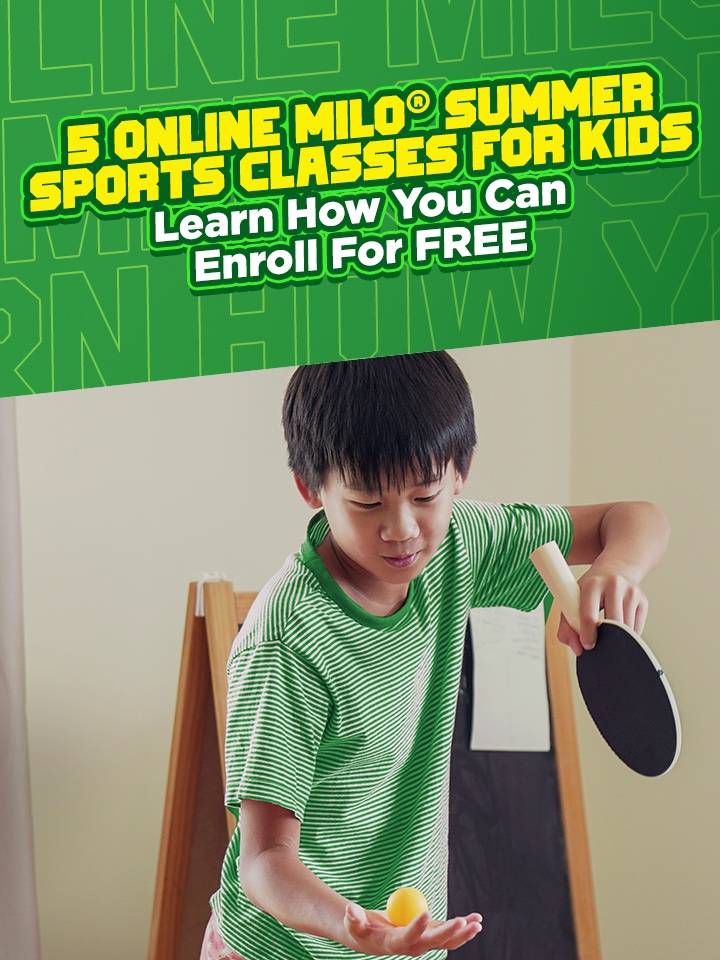 5 Sports Programs to Enroll Your Child In This Summer
It's that time of the year again when parents actively seek recreational programs or courses for their children. How about opting for sports this summer? Getting children into sports helps improve their physical well-being—among other things.
MILO currently offers free online sports programs that are aimed to provide aspiring athletes with the fundamentals and training for their chosen sport. These online classes are designed for those who do not have access yet to on-ground classes, or who would like to have a primer for face-to-face sports training in MILO sports clinics soon. It gives the children a chance to still engage in physical activities even when online, as well as an opportunity to involve other family members in the online training sessions.
Sports training, even when done online, entails mental, social, and emotional benefits.
First, it can help develop a child's self-esteem and confidence and encourage them to learn to trust themselves and their abilities. Their newfound self-esteem and confidence, however, shouldn't focus only on winning or losing.
Second, children who participate in sports learn to appreciate and acknowledge the value of teamwork. Children learn to interact with each other, giving them a sense of belonging and an opportunity to make friends.
Third, athletic training instills discipline. All sports, whether team or individual sports involve rules and training. Children learn to acknowledge their strengths and to build on those strengths to become better at their chosen sport. They learn to acknowledge their weaknesses, too. Training also encourages them to listen to and follow their coaches or instructors.
Lastly, participating in sports teaches children one of the most important life lessons they could ever need: How to celebrate wins and accept defeat. There will always be winners and losers in sports. Participating in sports reminds children that it's okay to lose sometimes and that it is equally important that they know how to get back up and try again.
Now that we've discussed the benefits of getting your kids into sports, the next question is, in which program should they enroll? To help you decide, we have selected a few for you to consider.

MILO Online Table Tennis Class
Table tennis can help develop your child's motor skills and mental strength and also boost their long-term memory. These are invaluable benefits to children who have not fully developed their mental abilities. Furthermore, playing table tennis can enhance your child's hand and eye coordination, flexibility, and agility.
If you're interested in a table tennis program for your child this summer, you can check out MILO's online sports class on table tennis. Champs from the UP Table Tennis team will lead this free four-week program that will teach your child the basics of the sport. You also don't need to worry about the equipment since the program will teach your child to use their hands or any flat-surfaced house items for practice.
MILO Free Taekwondo Program
One of the most popular and widely available martial arts in the world, taekwondo can help instill self-discipline and leadership skills in your child. It can also boost their self-esteem and self-confidence, teaching them to focus on constantly developing and improving themselves. This sport can also teach your child basic self-defense.
You can have the best taekwondo coaches in the country coaching your child under MILO's free four-week taekwondo program. The Philippine Taekwondo Association will teach the basics of the sports online, including stances, basic blocks, and back kicks. Sign up early if you want to join the classes. There will only be 10 sessions with 20 participants per class.
MILO Free Online Gymnastics Course
Apart from physical benefits like flexibility and upper body strength, gymnastics can also hone your child's coordination, balance, and creativity. Also, gymnastics can help your child lay a strong foundation for other sports they might be interested in in the future.
Get coaches from the pioneer of Philippine Gymnastics, Club Gymnastica, as your child's coaches in MILO's free four-week online gymnastics course. In this course, your child will learn the basics of gymnastics, from warm-ups and stretching exercises to proper conditioning techniques. They will also learn basic gymnastic positions, forward rolls, and handstands.
MILO Free Online Badminton Course
Badminton is a sport that can be enjoyed by people of all ages and from different backgrounds. The equipment you'll need–a racket and a shuttlecock–is also relatively inexpensive, making the sport fairly accessible. It's a low-impact sport that you can play with friends and family members. Furthermore, badminton helps improve motor skills, memory, and teamwork chops.
If you're looking for a badminton program for your child, you can consider MILO's free online badminton course. Experts from the Asuncion Badminton Center will be the coaches for this. Also, if your child doesn't have a racket, don't worry! The drills will boost your child's basic footwork.
MILO Free Online Chess Course
If you're looking for a sport that isn't as physically demanding for your child, consider chess. It will help develop your child's memory and logical thinking, improve concentration, and teach them strategic thinking. Strategy, after all, is key to playing chess. The game involves long-term goals and every move can make or break your game.
Want to teach chess to your kids? Try MILO's free online chess course. Three-time Olympian and Women's National Master Mila Emperado from the Metropolitan Chess Center will be your child's instructor. Your child will learn the game's basics, including the importance of each chess piece in this program.
Sports training with professionals
MILO has partnered with highly qualified and capable organizations in the country to ensure that your child will get only quality training from its sports programs. You can check out the MILO website for the other options.
Also, if you're unsure of which sports program to enroll your kids in, ask them about their preferences and start from there. Kids need to be keen on joining a program so they will have the drive to finish the course and then, hopefully, continue training and learning about their sport.
If your kid is hesitant about trying out a sport for the first time and would feel more comfortable joining a program with a sibling, consider enrolling them in a MILO sports program both of them like. This way, they can still continue their training and play together even after they have finished the course.
While you're in the process of encouraging your child to get into sports, remember to also instill in them the importance of balanced nutrition. Encourage habits that would allow them to make the most of a healthy diet and lifestyle. Drinking MILO every day can help your children get the nutrition and energy they need to get into sports.
Start your child's sports journey at home. Learn more and enroll in online sports programs for free here.