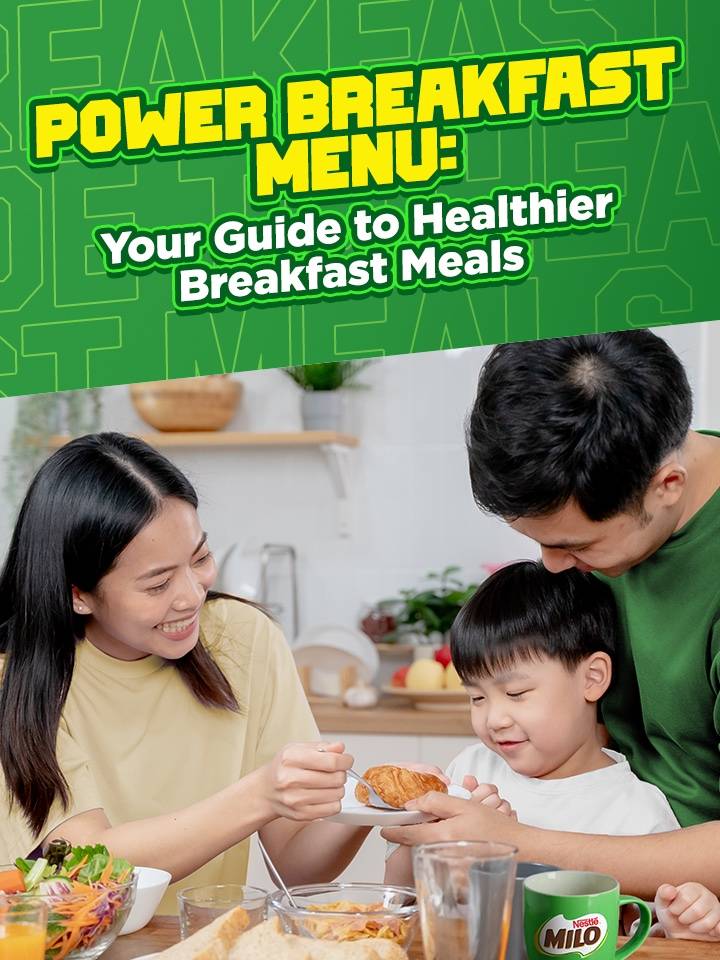 Power Breakfast Menu: Your Daily Guide to Healthier Breakfast Meals
Do you want your kids to feel energized throughout the day? Start their mornings right with a delicious and healthy breakfast that includes MILO. Not only will it make your children's tummies happy, but it'll also provide the nutrients they need to power up first thing in the morning. A healthy and hearty breakfast helps normalize your child's blood sugar levels after fasting while they are asleep. It also energizes your kids so they are physically active and helps regulate their weight.
Preparing a healthy breakfast can be challenging when you don't plan in advance. However, "healthy" doesn't mean you have to feed your children strictly green meals to be nutritious; you can add a kid-friendly twist to healthy breakfast options and still offer proper nutrition to your child.
Below is a meal plan containing vegetarian- and halal-friendly sweet and savory meals you and your kids can enjoy. These balanced meals can provide the carbohydrates, protein, vitamins, and minerals your children need for the entire week, and by adding MILO, we've made the meals even more nutritious. Try out these easy healthy breakfast options.

Monday

Tuesday

Wednesday

Thursday

Friday

Saturday

Sunday

MILO Banana Nut Pudding (recipe below) with

Apple Juice

Apple Nut Overnight Oats (recipe below) with

MILO Protein Pancakes (recipe below) with

Orange Juice

Scrambled Egg Wrap (recipe below) with

with Cold Milk

One-Pan Egg and Veggie Breakfast (recipe below) with

with Warm Vanilla Milk (recipe below)
Don't let the everyday schedule daunt you. This menu plan is simply a guide. You can interchange the meals to your liking and have your weekend specials on weekdays instead.
More than just giving your kid the energy boost they need to get through the day, eating a balanced, healthy breakfast can also help them perform better in school by improving their retention and focus. If you're a busy parent, having a breakfast menu plan can help you prepare nutritious meals your child deserves—just don't forget to add MILO to their breakfast routine, too! Fortified with PROTOMALT, B-vitamins, and iron, MILO gives them the advantage to stay strong, focused, and energized every day.
Here are some of the Recipes featured on the menu plan:

MILO Banana Nut Pudding
Inspired by MILO's Overnight Oats recipe, the chocolate-banana combo is one true pairing your kids will enjoy. Bananas add potassium and fiber, while almonds provide magnesium, protein, and fiber to keep your kid satiated longer.
Ingredients:
150 ml milk or milk substitute
4 teaspoonfuls of MILO
40g rolled oats
2 tbsps chia seed (optional)
1 medium-sized banana, sliced into rounds
30g sliced almonds or cashews
Mix milk and MILO powder separately. Once combined, stir in two tablespoons of chia seed until well-incorporated. Store in a jar or bowl, and keep in the fridge overnight. In the morning, top the chia pudding with sliced bananas and almonds. You may also add other fruits if needed.
Apple Nut Overnight Oats
While it might not seem much, this breakfast option is the perfect morning fuel. Apple and oats are rich in carbohydrates that can perk up your child's mood without making them feel sleepy after eating. Plus, cashews are rich in fiber, heart-healthy fats, and plant protein, all of which are essential for your little one's growth and development.
Ingredients:
½ a large apple, diced
30 g chopped cashews
120 ml milk or milk substitute
40g rolled oats
1 tbsp plus 1 tsp honey
Combine milk, rolled oats, and one tablespoon of honey in a jar or bowl. Store in the fridge overnight. In the following morning, top overnight oats with diced apple and chopped cashews, and drizzle with remaining honey. You may also add other nuts and seeds if desired. Serve with a glass of MILO Energy Dunk, or if pressed for time, a warm cup of MILO.
Scrambled Egg Wraps
For this quick-and-easy, portable breakfast, you're loading up your child with protein found in the eggs, chick peas, and cheese to keep them energized and full in the morning. In addition, the whole-grain tortilla and salsa add complex carbs to their diet to break down protein and fats to build and repair tissue.
No tortilla? No problem. You can substitute the whole-grain tortilla with two slices of whole-wheat bread and turn it into a breakfast sandwich!
Ingredients:
1 or 2 eggs, beaten
½ cup cooked chick peas (garbanzos), or corn kernels
2 tbsp salsa (You can make this from scratch. Recipe below.)
⅛ cup shredded cheese
1 whole-grain tortilla or 2 slices of whole-wheat bread
Salt and pepper, to taste
Heat a medium frying pan and scramble eggs to the desired doneness. Season with salt and pepper and set aside. Using the same pan, heat up the tortilla for a few seconds, then place it on a chopping board to prepare the wrap. Set the scrambled eggs in the middle of the tortilla, then follow with the black beans and salsa. Sprinkle the shredded cheese of the filling, then fold the tortilla into a wrap. You may cook the wrap with the flap down to seal it. Serve with a glass of MILO Horchata.
Salsa Ingredients:
1 cup ripe tomatoes, chopped
2 tsp white onion, minced
1 clove garlic, minced
1 tbsp fresh cilantro or wansoy, chopped
1 tsp lemon juice or calamansi juice
Salt, to taste
Combine all ingredients in a bowl. Pulse in a blender or serve as is.

MILO Protein Pancakes
Think of this as a classic breakfast meal but made even better. Instead of regular pancakes, you're mixing in a serving of MILO to boost its nutrition value (and flavor!), greek yogurt for an extra dose of B-vitamins and protein, and chia seed for fiber, healthy fat, and protein for a well-rounded hearty breakfast for your child.
Ingredients:
120g all-purpose flour
1 tsp baking powder
½ tbsp sugar
¼ tsp salt
1 large egg
180ml milk or milk substitute
¼ tsp vanilla extract
1 tbsp unsalted butter, melted
4 teaspoonfuls of MILO powder
¼ cup plain or greek yogurt (optional)
2 tbsp chia seed (optional)
1 tsp unsalted butter, softened
Sift together flour, baking powder, sugar, and salt in a bowl. Whisk in the egg, milk, vanilla, one tablespoon of butter, and greek yogurt until well combined. Stir in chia seeds last. In a heated medium pan, melt one teaspoon of softened butter. Scoop a half cup of pancake batter onto the pan, and when the top starts to bubble, flip the pancake to cook the other side. Serve with butter and maple syrup and with a side of fresh fruit.

One-Pan Egg and Veggie Breakfast
This savory, filling breakfast is packed with complex carbohydrates from potatoes, vitamins and minerals from broccoli and bell peppers, and a protein punch from a fried egg. Your kid can enjoy this colorful meal on its own or with a side of multigrain toast!
Ingredients:
Olive oil
1 tbsp chopped garlic
1 tbsp chopped onion
75 grams baby potatoes, rinsed and halved
1 cup broccoli florets
¼ large red bell pepper
¼ large yellow bell pepper
1 egg
Salt and pepper, to taste
Heat olive oil in a small pan. Over medium heat, saute onion and garlic for two minutes, then add baby potatoes. After three to five minutes, add broccoli and bell peppers. Season with salt and pepper, as needed. Make a space in the middle to drop in the egg, and cover the pan until cooked.

Warm Vanilla Milk
An easy way to increase your child's protein intake is by drinking milk. Sweeten things up this time by adding vanilla and maple syrup for a lip-smacking version of their usual warm glass of milk.
240ml milk or milk substitute
½ tsp vanilla extract
1 tsp maple syrup
Whisk all the ingredients together. Pour in a mug to heat in the microwave for 45 seconds to one minute.