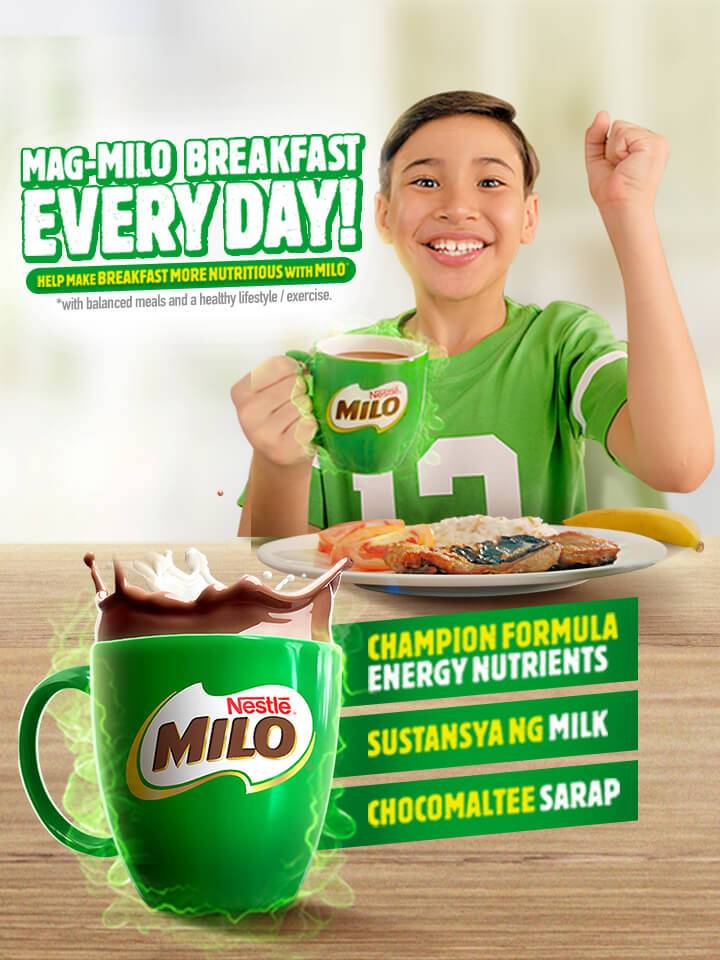 Are you sure you're serving a nutritious breakfast to your child every morning?
A quick and easy nutrition guide for nutritious and balanced breakfast is the PINGGANG PINOY® developed by the Department of Science and Technology - Food and Nutrition Research Institute (DOST-FNRI). Half of the plate should consist of GLOW Foods: vegetables and fruits that are rich in vitamins, minerals and fiber. The other half is split between carbohydrate-rich GO Foods, like rice, bread, or whole grain cereals; and protein-rich GROW Foods like fish, meat, or egg. A nutritious breakfast milk drink further boosts the protein and calcium content of this meal, and provides hydration.
Studies show that a breakfast that delivers the right amount of energy is beneficial for cognitive functions and academic performance. A high energy breakfast also provides benefits to their physical endurance. A 6 to 9 year old child needs 1600 calories per day, and breakfast should provide 20-25% of that daily energy requirement to get all these great benefits. As the most important meal of their day, their nutritious breakfasts should have 320 to 400 calories.
MAKE MILO® A PART OF YOUR NUTRITIOUS BREAKFAST
MILO® is a breakfast drink made with the natural goodness of milk, malt and cocoa, and does not contain artificial flavors. A mug of MILO® Choco Malt Milk Drink helps your child reach the optimal amount of energy for breakfast. Plus, it adds essential nutrients to your child's diet and aids the benefits of a healthy breakfast to help them stay well-nourished and active.
FIVE Reasons to Give MILO® at Breakfast:
MILO® adds energy to your child's breakfast to help your child be physically active and mentally ready.
MILO® is a source of protein that promotes growth and development, and strong muscles.
It has B-vitamins and Iron to help release energy from food.
It contains calcium, phosphorus and Vitamin D for strong bones and teeth.
It also contains Vitamin C that contributes to a healthy immune system.
See how MILO® makes each breakfast more nutrient-packed!
By starting the day with a nutritious breakfast, you are assured that your child gets the energy and nutrition they need to have a champion day.
Looking for breakfast ideas? MILO® has recipes like MILO® Oats n' Banana Pancake and MILO® Champorado.
References:
Department of Science and Technology - Food and Nutrition Research Institute. (2017). PDRI 2015: Philippine Dietary Reference Intakes. DOST-FNRI.
Department of Science and Technology – Food and Nutrition Research Institute. (n.d.). Philippine Food Composition Table. DOST-FNRI. https://i.fnri.dost.gov.ph/fct
Lopez-Sobaler, A. M., Ortega, R. M., Quintas, M. E., Navia, B. & Requejo, A. M. (2003). Relationship between habitual breakfast and intellectual performance (logical reasoning) in well-nourished schoolchildren of Madrid (Spain). Eur J Clin Nutr, 57 Suppl 1, S49-53.
Torres, M. D., Carmona, I., Campillo, C., Perez, G. & Campillo, J. E. (2007). Breakfast, plasma glucose and beta-hydroxybutyrate, body mass index and academic performance in children from Extremadura, Spain. Nutr Hosp, 22, 487-90.
U.S. Department of Agriculture, Agricultural Research Service. (2019). FoodData Central. https://fdc.nal.usda.gov.
Wyon, D. P., Abrahamsson, L., Jartelius, M. & Fletcher, R. J. (1997). An experimental study of the effects of energy intake at breakfast on the test performance of 10-year olds