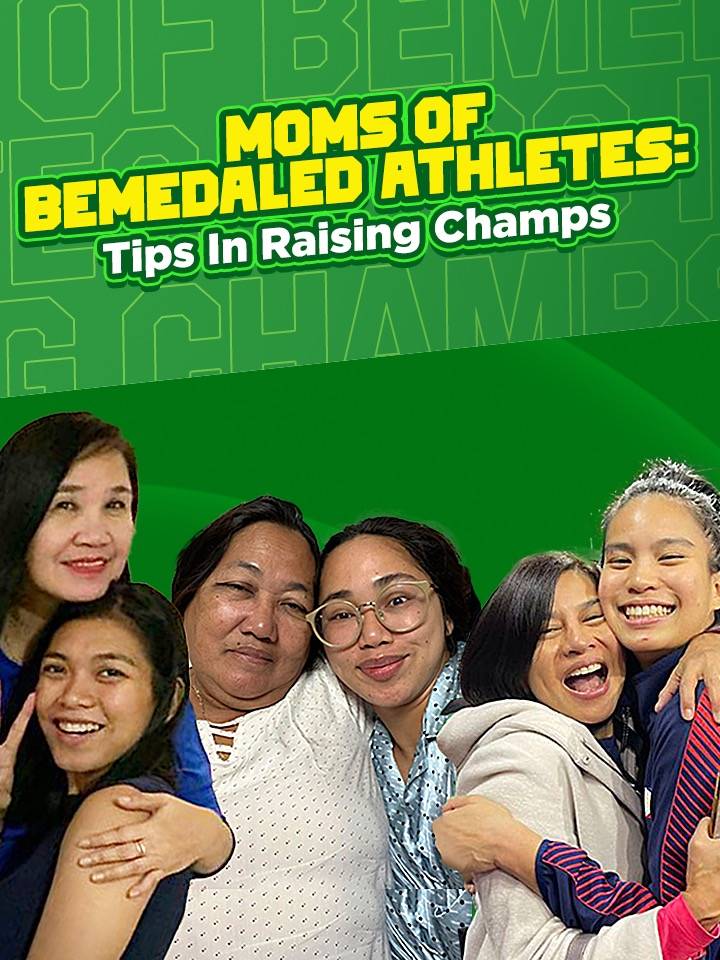 They say an athlete's first fans are their parents, so it's no surprise that a parent's involvement has the ability to make an athlete's journey. Just ask Emelita Diaz, mom of Olympic gold-winning weightlifter Hidilyn Diaz; Pablita Valdez, mom of professional volleyball player Alyssa Valdez; Angelica Yulo, mom of champion gymnast Carlos Yulo; Darlene Berberabe, mom karateka medalist Jamie Lim; and Chi Lopez, mom of winning taekwondo in Pauline Lopez.
To give you a peek into what it's like raising athletes who grow up to become champions, let's meet these amazing moms:
Sports create opportunities and change your child's life for the better
For some of these moms, their kids' interest in sports was welcome news. "Alyssa started playing because of her brothers and friends," Pablita shared. "I was a volleyball coach before, so I saw her potential to be a good player. I supported it because you can learn many things from being an athlete."
For Angelica, Carlos's interest in gymnastics was also a good thing since it could help him earn a scholarship in the future.
For Darlene, karate was a way to help Jamie overcome her shyness and teach her to stand up for herself. The mom said Jamie did not enjoy the sport at first, but when Darlene allowed her daughter to quit, the soon-to-be karateka chose to continue pursuing the sport.
You need to overcome your own doubts to support your kid's sports dreams
However, some were hesitant at first. According to Chi, "Pauline was motivated to do taekwondo because her dad used to be part of the Philippines National Taekwondo Team. Her dad initially didn't want her to get serious with the sport, since he received terrible injuries before."
She added: "There's the financial aspect, too. But what made us fully support Pauline was the victories she kept winning in the local tournaments in the States."
Emelita was also uncertain in the beginning. "Nagsimula si Hidilyn sa edad na 11-taon gulang. Nagbubuhat siya ng mga barbel na yari lamang sa kahoy kasama ng pinsan niya," the mom began.
"Dati ayaw ko na sumali siya sa larong iyan kasi parang panlalaki," Emelita revealed. "Pero pursigido si Hidilyn, kaya hinayaan ko na siya. Hindi na ako kumontra sapagkat alam kong masaya siya at enjoy sa ginagawa niya."
Since their kids were fully committed to their sport, the moms also gave their all. They supported their children's dreams in every way that they could — from shuttling them to and from their games, buying their uniforms, funding their training and tournament fees, attending to their injuries, making sure they have extra clothes and towels in their bags, giving them pep talks when necessary, and making sure their food is always healthy and nutritious.
Moms of athletes share lessons on how to raise champions:
The moms also took it upon themselves to help their children gain the mental fortitude, discipline, and emotional maturity that they need to thrive and survive in the very competitive world of sports. Here's what we can learn from them:
Lesson 1: Celebrate victories and be their devoted supporter during losses
For Emelita, it was important to be there for Hidiliyn whether she wins or not. "[Nag-oorganize kami ng] welcome party. Mahalaga ito dahil binibigyan namin siya ng pasasalamat sa pagdala ng karangalan sa ating bansa," the mom shared.
And whenever her daughter faces defeat, Emelita is right there to support her. "Lagi kong pinapaalala sa kanya na huwag pumatol sa mga sinasabi ng iba dahil hindi sa lahat ng oras ay talo siya. Mayroon ding araw na makakamit niya ang kaniyang mga mithiin para sa bansa," she said.
Lesson 2: Teach them how to deal with criticism with grace
"Volleyball is a very popular sport, and many people will support their athletes. But there are times when viewers' comments about athletes are below the belt. I let these comments pass," shared Pablita.
This is important since children take cues from their parents on how to handle criticism. Instead of engaging with bashers, be a good role model and encourage your kid to focus on the positive such as improving their game or keeping up with their training.
Lesson 3: Know what motivates them to play — you may need to remind them about it someday
Angelica said: "[When Caloy hits a wall] and needs motivation, I talk to him and I remind him why he joined gymnastics in the first place. I remind him what his goals and dreams are. Then I remind him of the sacrifices he made to get to where he is."
It's crucial that young athletes understand that their journey, their experiences, and their growth as individuals are as important and meaningful as their goals.
Lesson 4: Learn to discern the help they need in different situations
According to Darlene, "I was always Jamie's companion when she competed internationally, so I had the privilege of knowing her very well. How she is after a loss or win, what motivates her, irks her, encourages her, or dampens her."
"So, I learned to use my judgment on how to best be there for her when she needs me. How to be her cheerleader, her coach in the mindset and attitude, and or her mentor in helping her process her thoughts and emotions," the mom explained.
Lesson 5: Teach them grit and instill in them a growth mindset
Sports is as much a mental battle as it is a physical one. That's why Pauline's mom and dad always make sure their daughter has all the right mental ammunition when on the field.
"My husband teaches her that any time things go south, the only way to address it is to work three times harder to fix it," the mom said. "You get down, you get back up, and come out stronger!"
What's their advice for parents who are raising athletes
Emelita championed the importance of time management, saying "Hikayatin ang mga bata na mag-schedule ng tama para maibalanse ang kanilang oras at ma-manage ang stress."
Angelica agreed: "See to it that they're balancing their sport with school and that they're doing their homework."
For Pablita and Darlene, it's important to continue encouraging your child's interest and passion in sports, with Pablita highlighting the many benefits of sports in kids' development: "They will learn how to work and adapt to different personalities, manage conflict, attain common goals, and communicate successfully."
Darlene shared this tip when it comes to encouraging and giving feedback to your child: "[If you're raising an athlete] timing is important. You cannot just point out what you thought were the mistakes in [their] game right away, because [they already feel] bad."
She said that moms of athletes need to listen to and understand their children so they can adjust their approach and find the right words to say at that moment.
For her part, Chi stressed the importance of nutrition. "Nutrition is paramount! Make sure their food is healthy and that it's prepared for the day. That includes their supplements," she said.
Before an aspiring athlete wins a medal and attracts legions of fans, they will first need at least one person who will believe in them and inspire them to reach for their dreams. And for many champion athletes — like Hidilyn, Alyssa, Carlos, Jamie, and Pauline — it's their moms.

Enroll your kids in MILO® Sports Clinics. Go to this page to learn more.