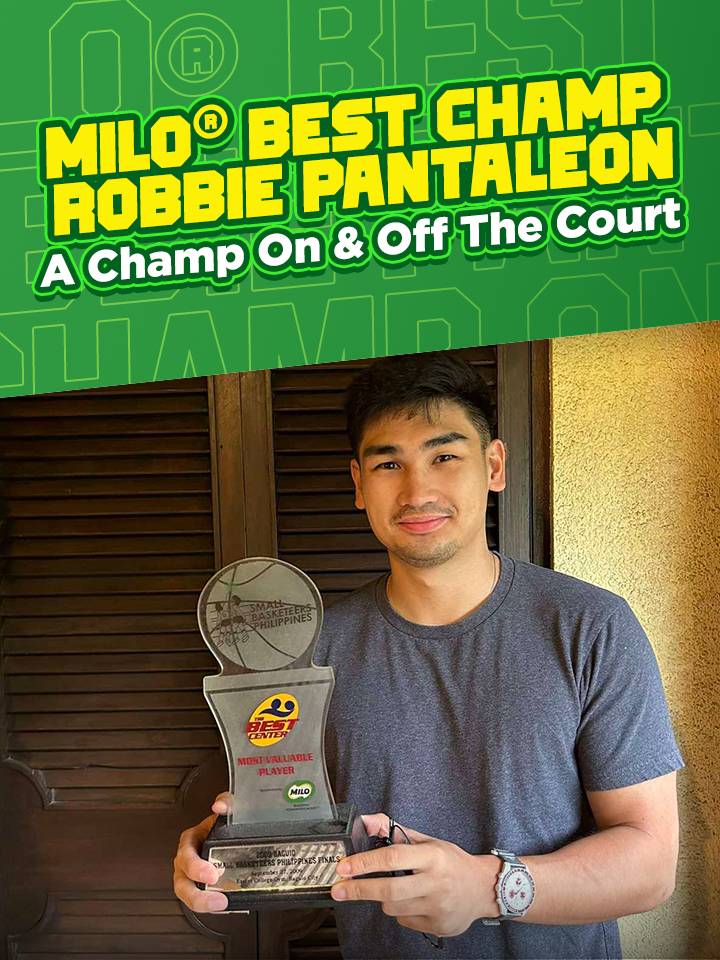 Meet Robbie Pantaleon, the MILO® Best Champ Who Now Runs a Successful Business 
Every so often, we hear inspiring success stories about Filipino youth. One successful business story is that of Robbie Pantaleon. From shooting hoops to calling the shots in a growing business, the 26-year-old MILO® Best Alumnus now runs his family's business.  
Robbie manages his family's business with the same passion, dedication, and competitive spirit he had as a young athlete.  
"Like in basketball, running a business is like running a team. You need to build solid foundations with your people," says Robbie. He was also the National Olympic Committee Coordinator for the 2019 SEA Games.  
His childhood revolved mainly around two things: sports and his family. Robbie recalls being handed a tiny set of golf clubs by his father in Camp John Hay when he was only four years old and being given the freedom to roam around the golf course and use the equipment. Later on, Robbie's father also assembled a basketball court from repurposed pinewood to encourage his son to play basketball. This labor of love kickstarted Robbie's passion for the sport.  
The start of something bigger 
Soon enough, he was playing basketball not only at home but also in school during breaks and immediately after classes. His mother saw his interest and decided it was time to enroll him in a sports clinic–MILO® Best Baguio. Like other moms of athletes, Robbie's mom was supportive of her child. 
Joining MILO® Best proved to be a big and crucial step that would hone Robbie's skills and help him excel at playing basketball. More than the awards and recognition he received, Robbie also gained new friends and learned to value discipline—the discipline to practice regularly, correct nasty habits, and listen to your coach. Having the discipline to be the best you can be and learning to value the relationships you build along the way are Robbie's key takeaways from being an athlete. 
A supportive and nurturing environment 
Robbie lost his father early. Fortunately, he had teammates he could turn to, teammates who became his friends and whose companionship helped keep him afloat during those trying times. They became his support group.  
"At that point in time I was playing in Palarong Pambansa representing CAR," Robbie recalls. "My teammates were the ones who lifted me up, they kept me distracted–they were basically family to me. I felt so loved and cared for and I didn't think I would get this from being exposed to sports." 
Playing sports and having a supportive household were key to building Robbie's strong character. Robbie learned how to manage his emotions, accept defeat, and rise up to be a leader. These are lessons he applies in his daily life as a COO in the corporate world. 
You may have heard many success stories of entrepreneurs, and how a supportive environment was pivotal in charting their path. Looking at Robbie's journey, we see how important it is for parents of athletes to nurture the potential and passion they see in their children. The values parents instill in children at an early age manifest even later in life. Such values are instrumental to their personal growth. 
Raising athletes does not only mean you get to raise Champions in sports. You also get the opportunity to mold your children into potentially becoming tomorrow's leaders. Help your children reach their full potential. Encourage them to get into sports and bless them with the chance to build their character and develop a sound body and mind. Enroll them in MILO® Sports Clinics.