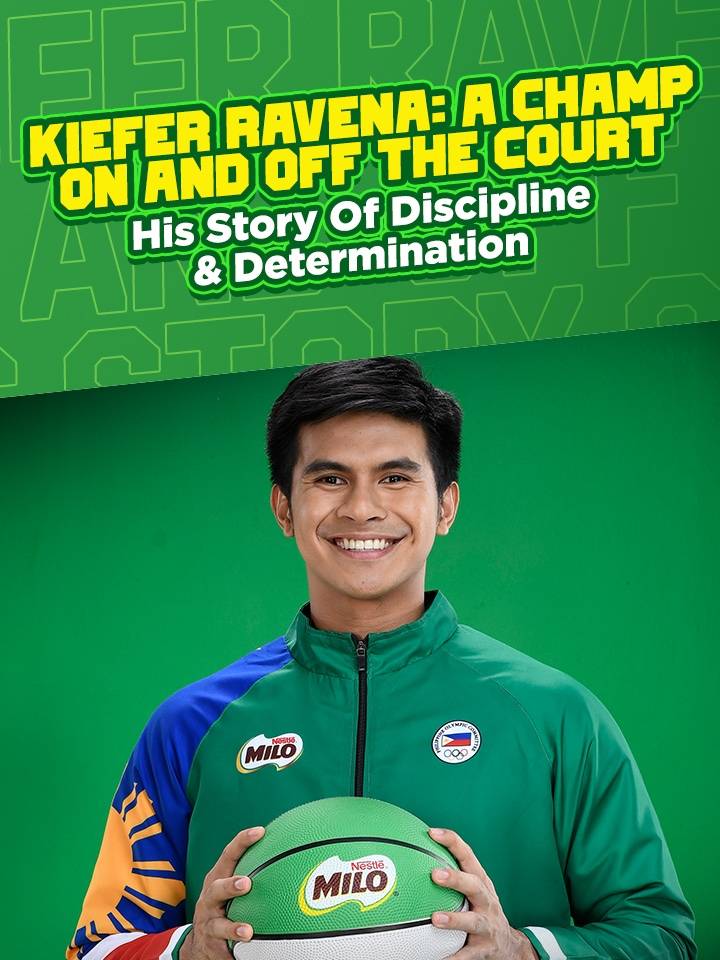 Kiefer Ravena Shares How Sports Taught Him the Value of Discipline and Determination
Dunking since he was four, basketball player Kiefer Ravena continues to soar as part of the big leagues with a pack-full of discipline, grit, and resilience. He remains an inspirational athlete as one of the most-loved endorsers of MILO.
Kiefer's success story began when he was Inspired by his father, famous PBA player and now national team coach, Bong Ravena. He was one of the top high school basketball players in the Philippines, garnering numerous awards while he played for Ateneo de Manila. He was also a star player on the national team, the NLEX Road Warriors. "The Phenom," as he is fondly called, is now a regular player of Shiga Lakestar, an international basketball league. He has come a long way.
Before Kiefer earned "The Phenom" title, his top-tier skills pivoted through training camps including the MILO sports clinics and BEST Center, honing him to be at the top of his game. As his way of giving back, he continues to pay tribute to MILO sports clinics, especially to its founder, Nic Jorge, who was one of his first mentors.
Participation in sports builds character. When he graduated in 2005 from MILO BEST, talent and skills aside, he acknowledged that strengthening his morals and instilling discipline were also part of his training.
"Pinaka-natutuhan ko sa MILO sports programs ay yung disiplina na dala-dala ko hanggang ngayon," Kiefer said in an earlier interview.
Despite having faced major challenges and obstacles, Kiefer firmly held on to his passion and never gave up. He admitted going through losses and shared how he overcame them through his determination and faith in God, proving nothing could take away his passion or his love for the game.
"I really stuck close with my support system and trusted God's work for me," Kiefer said. "I just looked at the silver linings and what I can learn from the experience."
The Phenom hopes to continue inspiring those who are passionate about sports, especially the youth. As an endorser of MILO for years, he dedicates his remarkable experience to those with a burning passion for the game and those who choose to train and hone their skills, as he did.
For Kiefer, basketball has been a life-changer. This hobby and dream goal of his, which started with playing at a sports clinic, has become a full-time job.
Kiefer says he would not trade his basketball journey for anything in the world because of how he has surpassed his limits to earn triumphs, recognition, as well as life lessons.
For Kiefer, basketball wasn't just part of his destiny; it was part of his plan.
"My journey was a 'love-at-first-sight' kind of thing. I never really played any other sport besides basketball. I understood and realized I wanted to make basketball a living when I was in high school," he revealed.
"I was really determined to be the best possible player I can be. That's why I continue to work the hardest to achieve my goal."
Kiefer and his achievements remain an inspiration to sports enthusiasts. Kiefer, from being a rookie to an international pro-basketball player, promotes wellness and healthy habits not only to strengthen their bodies but to also instill discipline and determination. He and other MILO alumni are a perfect example of how passion, discipline, and a cup of a healthy, energy drink like MILO could help in bringing you closer to your goals.
Like Kiefer, your child can get into sports and succeed. Learn about MILO sports programs here.