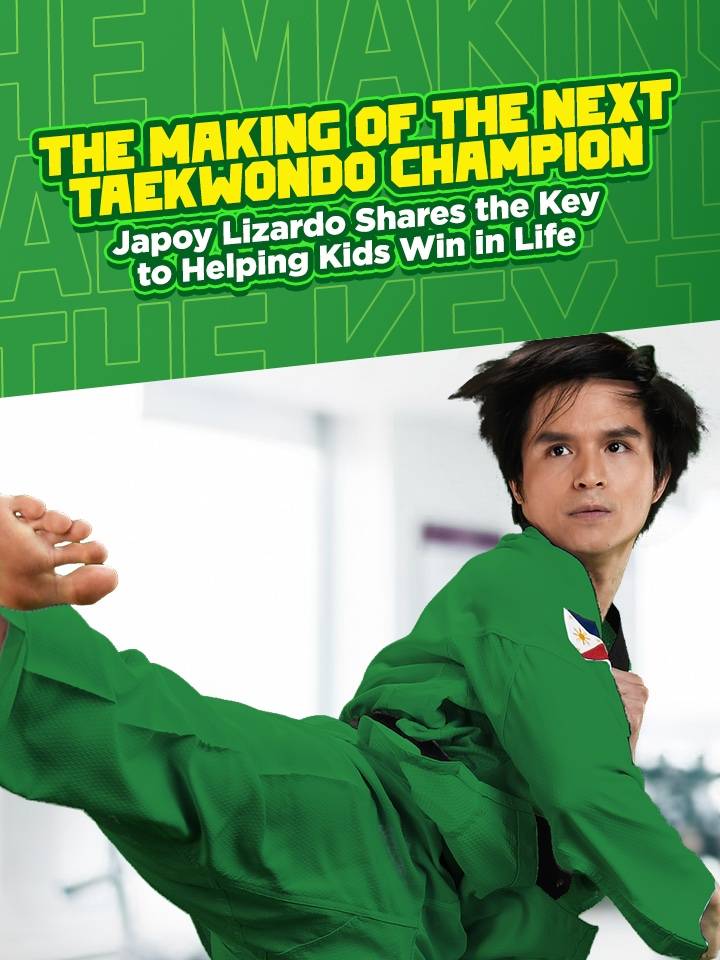 Having stood amongst the black belters in Philippine taekwondo, the name of John Paul "Japoy" Lizardo is spoken with pride and admiration to this day. He is one of MILO's most-loved brand ambassadors. He talked about his beginnings as an athlete–and in taekwondo– in a recent interview.
Japoy's first foray into sports was not in martial arts but in basketball. He first enrolled in the basketball program of the MILO Best Clinic when he was eight years old and was also part of his school's varsity basketball program.
Japoy unexpectedly developed a sudden interest in martial arts when he was 11 years old, after finding inspiration in Bruce Lee movies. This spark prompted Japoy to pursue taekwondo and soon earn a black belt. The rest, as they say, is history.

A young and influential sports icon
Japoy was only 12 years old when he joined the Philippine Black Contingent, the national taekwondo team for elementary and high school students. He was only 14 when he became a member of the Philippine junior national team and began competing in international tournaments. By the time he turned 18, Japoy was already a part of the senior national team.
Japoy rightfully earned his status as an influential sports icon. His popularity as a young athlete led to opportunities to star in his own TV commercial and to be featured in local TV shows. His affiliation with MILO has been cemented by the fact that an image of his winning form has been printed on thousands of commercially available MILO packs.
Later on, Japoy became a professional taekwondo coach.

A father creating a legacy by supporting his children
Unbeknownst to most, the "Fighting Prince of Kick," after medals and merits, has turned a new chapter of his life. Japoy Lizardo may have taken his final bow at 29, but his passion for the sport never ended. He continues to share his taekwondo expertise with his new students: his sons.
A decade after retirement, Japoy, now 39, lives in Canada with his wife, Janice Lagman, also a former taekwondo athlete; and their sons Jace, 5, and Jevi, 2. In his adopted home country, Japoy takes on the challenges of fatherhood, giving it his all despite having neither awards nor medals involved.
Japoy is proud of his sons and fondly talks about them, saying, "They're both very energetic and playful. Pero sobrang magkaiba sila ng personality. You will really see the difference between the two."
Japoy understands that as a father, he needs to be flexible in dealing with his kids. No two children are completely the same, and Japoy appreciates this. He is also grateful for the help he gets from people who, throughout his life, have earned his trust, admiration, and respect–his parents.
"I'm sure marami pa ko matututunan sa fatherhood. Buti na lang my parents are still there to guide me and natatanungan ko for advice. Ang pagiging isang father ay isang malaking responsibility. I have to make sure na ma-guide ko sila nang mabuti para lumaki silang mabubuting tao at may takot sa Diyos," said Japoy.

A perfect role model and his kids' number one supporter
Believing that getting into sports not only trains people for competitions but also prepares them for greater challenges in life, Japoy hopes his kids would have the same passion for sports as he and his wife did at their age. He wants his kids to learn the same life lessons and gain the same courage and confidence to face challenges.
As a father and coach to his kids, Japoy serves as the perfect role model.
"Honestly, I want them to become athletes," said Japoy. "I want them to learn all the values that I learned when I was an athlete and prepare them for the future.
He uses sports as a vehicle to instill values of perseverance, respect, and discipline in his kids, as well as an instrument to help them reach their own dreams.
Japoy explains, "Kasi sa pagiging atleta, you will experience many things like victories and defeats. They'll know what to do when they experience it."
Despite his dreams of turning his children into champions, Japoy will support them any way he can, whatever dreams the kids will have.
"My greatest dream is for them to become Olympic champions. But of course, it's still up to them if they want to follow in our footsteps or if they want a different career. As long as they will be happy and successful in what they will do, I am good with it," added Japoy.
Japoy's success as an athlete may have placed him on a pedestal in his youth, but it now serves a different purpose. After retirement, his victories and losses became part of the foundation that prepared him for fatherhood and building a family. From wearing a dobok to being a father, Japoy has proven you can be successful, even when you choose to walk a different path.
"I've learned in my childhood and now that I am a grown-up that you really need to work hard to achieve your goals. Kung may pangarap ka, kailangan mong mag pursige para makuha ito. You also need to surround yourself with positive people that will guide and help you get your goal," said Japoy.
As a young athlete, Japoy received the training and motivation he needed to become a taekwondo champ. The training and support he got through sports helped shape him into a fine adult so he could also become a great father and a champion in life.