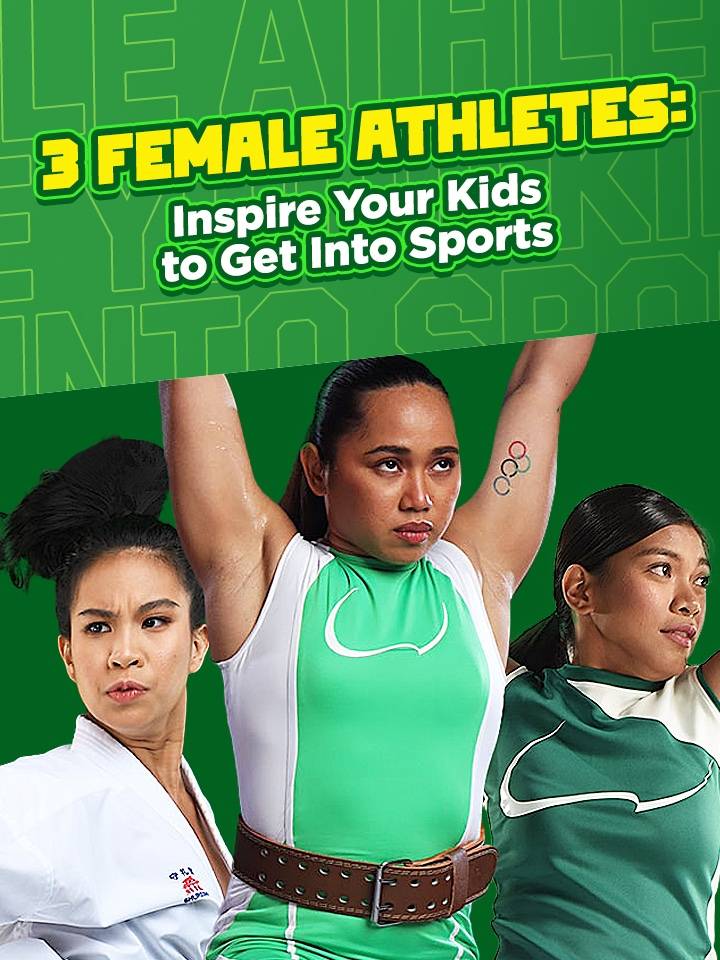 If you haven't already gotten your kids involved in sports, there's no better time than now to get started. Sports have been proven to help children develop behavioral building blocks of success, such as perseverance, discipline, and a strong work ethic. And for many men and women, getting started at an early age also helped them excel in the sports themselves. Over the years, MILO has been supporting aspiring young athletes by providing training programs that allow them to realize their potential in sports. You don't need to look further than Hidilyn Diaz, Jamie Lim, and Alyssa Valdez as examples of Pinays who grew to be inspirational athletes after being introduced to their respective sports as kids. Here's a quick look at where these Filiipina athletes are now, and how being a sporty kid helped them develop the skills needed to be at the top of their games as adults.
Hidilyn Diaz
Carrying the hopes of an entire country on your shoulders is no easy task, but it's one that Hidilyn did flawlessly. She won the Philippines' first-ever Olympic gold medal in 2020, lifting 224 kilograms in the Weightlifting Women's 55kg event. The four-time Olympian followed up her momentous feat with three golds in the 2022 World Weightlifting Championship, proving herself to be one of the Philippine sporting world's brightest stars and one of the best female athlete role models for the youth. It should be no surprise that she started her path to success early on. She was introduced to weightlifting at age 11, and the thrill of achieving a new personal best gave her the motivation to train for greatness. Being an athlete taught Hidilyn the value of grit, perseverance, and patience. It brought out the best in her and opened her mind to what she can achieve. Sports became the key to realizing her true potential, followed by success and fulfillment.
Jamie Lim
Jamie is one of the fastest-rising karateka in the country, having won gold and bronze medals in the 2019 and 2022 SEA Games, while also being part of the first-ever Philippine team to compete in an Olympic qualifying competition in Karate. She holds the highest-yet finish by a Filipina at the Karate World Championships at 7th and bagged a silver medal at the Asian Championships. Jamie credits her lifelong training in karate—she started at just age 6—for helping her bloom into the woman she is today.
"Strength of character, maturity, and a hunger for excellence." These, according to Jamie, are qualities she developed through sports. Winning her first-ever gold medal at age 9 taught her the value of perseverance, and gave her the confidence she needed to keep pursuing success.
Alyssa Valdez
Few Pinay volleyball players have had as phenomenal a career as Alyssa, who dominated the UAAP Juniors' and Seniors' tournaments en route to a total of five championships, six Season MVP awards, and the UAAP record for most points scored in a single women's volleyball game with 35. She continued her winning ways outside of college, bringing home four championships and four MVP awards in the Premier Volleyball League, cementing her place as one of the most successful Filipina athletes of her generation. Alyssa originally got into volleyball as a hobby, and started getting competitive in it after watching her brothers excel in the sport.
"Volleyball taught me the value of professionalism, teamwork, and the importance of hard work and diligence," she said.
While getting into sports fundamentally develops a person's physical strength, agility, and stamina, as well as improves one's health and well-being, there's more to it than having lean muscles and a strong body.
As seen in Hidilyn's, Jamie's, and Alyssa's stories, getting into sports can help mold a person into someone who's equipped for bigger challenges in life. Sports build character, and it's character that helps people grow into successful adults.
Give your children a bigger shot at success by enrolling them in youth sports programs. As one of the Filipino family's trusted partners in wellness and nutrition, MILO has been heavily involved in children's sports for decades, equipping kids with skills that help them achieve their goals both on and off the playing field.
Learn more about how your kids might grow to be the next Hidilyn, Jamie, or Alyssa with MILO sports programs here.