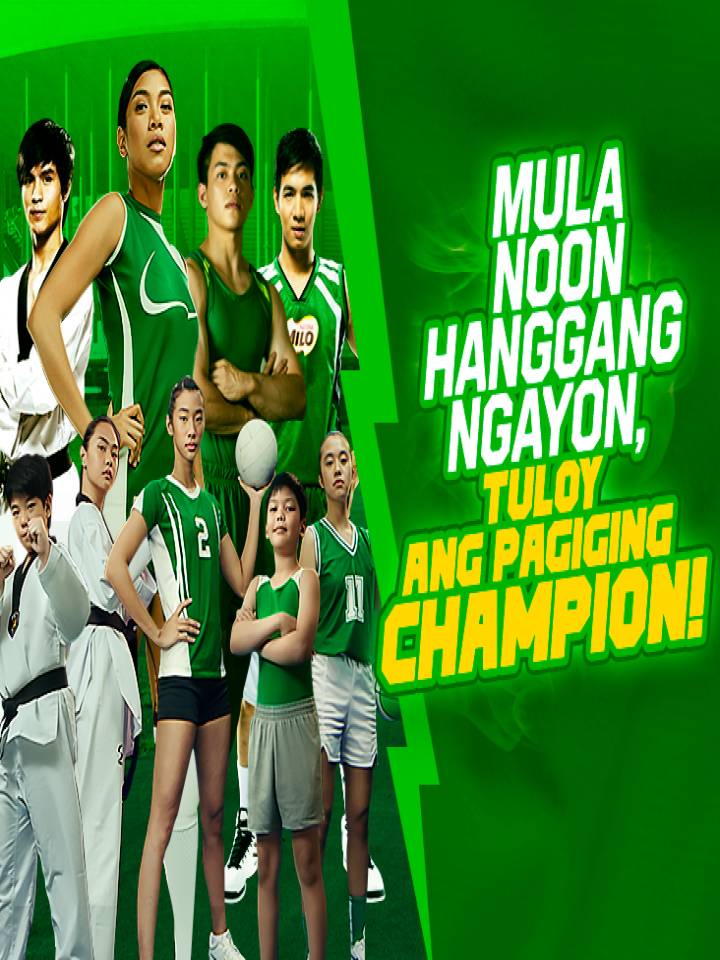 MILO® Philippines continues to drive its lifelong legacy of energizing children through sports with the announcement of its new campaign, "Mula Noon, Hanggang Ngayon – Tuloy ang Pagiging Champion", serving as the brand's banner theme for 2021. The story spotlights on the country's sports heroes of yesterday and today to show that parents can still help their kids jumpstart and propel their champion dreams at home amidst the changing waves of time. The campaign was initially unveiled on television, the MILO® Philippines Facebook page and YouTube channel. 
At the Philippine Sportswriters Association (PSA) virtual forum, Senior Vice President of Nestlé Philippines, MILO® Business Unit Veronica Cruz, MILO® Sports Manager, Nestlé Philippines Lester P. Castillo, Philippine Basketball Association (PBA) legend and MILO®-BEST Center graduate Jerry Codiñera, and fellow MILO®-BEST Center graduate and FIBA U18 Asia Cup medalist Ella Fajardo, announced the latest campaign and discussed MILO®'s strengthened commitment in helping parents engage their children into sports and proper nutrition.
"Sports is deeply entrenched in the fabric of human lives," said Castillo. "No matter what the challenges, our athletes of yesterday have shown great determination and grit to work for their aspirations which enabled them to become the champions we admire today. The Mula Noon, Hanggang Ngayon – Tuloy ang Pagiging Champion campaign is dedicated to the generations of athletes that continue to inspire the nation. By sharing the journeys of our Philippine sports heroes, we hope that, with the guidance of their parents, kids are further inspired to pursue their dreams."
In the Mula Noon, Hanggang Ngayon campaign, renowned athletes such as world champion and Tokyo Olympics gymnast Caloy Yulo, international multi-medalist and taekwondo jin Japoy Lizardo, volleyball phenom Alyssa Valdez, and former PBA superstar Chris Tiu star as the role models for the new generation of athletes Sofia Ildefonso of volleyball, siblings Anna Beatrice and Mateo Luiz Sarmiento of taekwondo, Nathan Ayson of gymnastics, Mikaela De Leon Martires of basketball – all of whom came from MILO®'s grassroots sports programs. 
Standing in for MILO®'s sports icons featured in the campaign, MILO®-BEST Center graduate and PBA champion Codiñera expressed his full support for the campaign. Recognizing the role of veteran athletes to the younger ones, he said: "Our achievements as athletes can pave way for the younger generations to do greater things – for themselves and for the society that they live in. It is important that we give them the motivation to uplift their spirits so that they pursue their sporting journeys."
MILO® strives to keep sports alive by combining innovation and tradition evident in the brand's sports programs that stood the test of time. It is through this manner that MILO® is able to help parents engage their children into sports through the years. Since 1964, MILO® has been supporting grassroots sports in the Philippines. The brand's time-honored programs such as the National MILO® Marathon, MILO® Sports Clinics, MILO® Little Olympics and the MILO® Champ Camp, have served as the springboard for many of the athletes we know and love today. 
Fajardo, a graduate of the MILO®-BEST Center program of the late Nicanor Jorge, said, "Seeing my basketball idols and my ates and kuyas at BEST Center do great things inspired me to work on my skills and do better in my sport. My learnings from MILO®'s sports programs definitely taught me to be persevering and disciplined which helped me move to the path I am taking today."
Keeping the Champion Spirit Alive 
By being an active collaborator of the sporting community and a partner of Filipino parents, MILO® is greatly positioned to further advance its pursuits of helping parents unlock their child's sporting potentials. United by the shared commitment of helping the younger generation of future champions, MILO® works with industry players such as the National Sports Associations, the public sector such as the Department of Education (DepEd), and sports organizations such as the Philippine Olympic Committee and the Philippine Sports Commission, to develop more sustained programs geared towards health and nutrition. 
What came to fruition from these partnerships was MILO®'s umbrella online sports program the MILO® Home Court. It was the brand's breakthrough initiative to pivot its signature on-ground sports activities to online. Its core sub-programs, the MILO® Sports Clinics Online, the MILO® Champion Habit with DepEd, the Champion Live and Minute have collectively reached 50 million views from children and parents from its instructional video content, attained 35 million post engagements and received 40,000 enrollees for its online sports classes which helped create jobs for 1,000 sports coaches, over the past year.
As MILO® continues these endeavors with the Mula Noon, Hanggang Ngayon – Tuloy ang Pagiging Champion campaign, the leading beverage brand is steadfast in enabling more parents to nurture their children to become tomorrow's heroes in sports and in life with the MILO® Champion Formula to make their champion journeys more energizing. The MILO® Champion Formula contains more milk, packed with more Champion Energy Nutrients na PROTOMALT®, Iron, at Vitamins B2, B3, B6, and B12, at mas sulit dahil mas pinarami na ang isang sachet at the same suggested retail price, parents and their children are given the right energy to stay active and healthy at home. It is the only chocomalt milk drink with milk as the #1 ingredient.
Watch the Mula Noon, Hanggang Ngayon – Tuloy ang Pagiging Champion material on the MILO® Philippines Facebook page and YouTube channel.