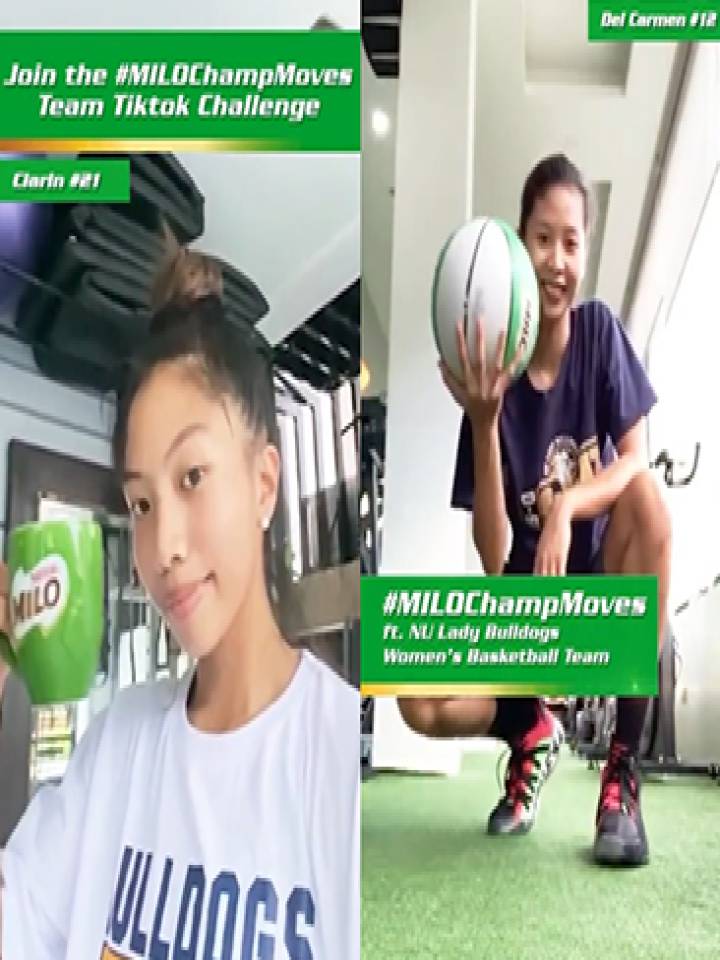 Six-time University Athletic Association of the Philippines (UAAP) Women's Basketball titlist National University (NU) Lady Bulldogs comes in as the newest addition to the roster of inspiring athletes in the MILO® Home Court Campaign. The ladies of the beloved basketball team will take over some of MILO®'s online programs and social media activities to help parents continue their children's champion journeys at home.
"Our commitment to nurture kids through sports never stops," said Lester P. Castillo, Assistant Vice President, Nestlé Philippines – MILO®. "To keep our children engaged and inspired to play and be active, we have tapped the NU Lady Bulldogs to join the MILO® Home Court campaign. The rare combination of heart and skill that these ladies have shown on and off the court make them the perfect role models for kids and aspiring athletes. We are delighted to have the NU Lady Bulldogs be part of the MILO® family."
Over the past decade, the NU Lady Bulldogs has taken the sport to greater heights after clinching its 96th-straight victory – the longest record streak in all national collegiate tournaments. During the 2019 SEA Games, members of the NU Lady Bulldogs who were part of the Nation Team emerged victorious after winning the championship game against other Southeast Asian countries. Now, the team will take on another role where they will inspire young athletes to become the next generation of champions.
"We are happy to be part of a campaign where we can utilize our abilities to motivate young girls and boys to pick up a basketball and pursue their dreams," said NU center player and SEA Games gold medalist Jack Animam, who has also become a notable figure in Philippine women's basketball.
The all-women's squad will energize the social media sphere with the MILO® Challenge on Tiktok. Along with Animam, fellow star players and Camille Clarin will teach kids fun ways to practice drills at home, as well as creative exercises that helped the Lady Bulldogs stay fit and healthy.
"Despite being indoors, we continue to find fun and exciting ways to stay active. We are excited to share these cool moves and tips with young aspiring athletes in the MILO® Challenge on Tiktok," said Animam. "With the videos available on social media, kids can revisit their favorite drills so that they can practice and expand their abilities."
The Lady Bulldogs will also provide tips on building DIY sports equipment through the MILO® Choice of Champions. The program will provide easy, step-by-step guides in creating sports gears from scratch, such as using everyday materials that can be found at home.
"Through this program, we hope to teach kids be determined and creative, which are essential attributes that make a true champion," said Clarin. "The MILO® Choice of Champions is designed to motivate children and not to let the lack of equipment stop them from engaging in sports."
Along with these new additions, kids can make their daily exercise more energizing together with the new MILO® Twin Pack Promo that contains more milk, packed with more Champion Energy Nutrients na PROTOMALT®, Iron, at Vitamins B2, B3, B6, and B12, at only PHP 14.00 for 48g, giving parents and their children the right energy to stay active and healthy at home.
To know more about the MILO® Home Court campaign, simply visit the MILO® Philippines YouTube channel and the MILO® Facebook page.
About MILO®
MILO® has been in the Philippines for over 50 years and is the country's favorite chocolate malt powdered milk drink that can be prepared with hot or cold milk or water. It's purpose is to nourish kids' journey to success with nutritious energy and inspiration to grow with sports.
Every mug of MILO® contains the goodness of Milk, Cocoa, Malt, and Activ-Go® - a special blend of Protomalt®, Vitamins, and Minerals. It is high in Vitamins B2, B3, B6, B12, C, and is a good source of Iron, for energy release from food.
About Nestlé Philippines
Over a hundred years after it first started operations in the country, Nestlé Philippines, Inc. (NPI) today is a robust and stable organization, proud of its role in bringing high quality food and beverage throughout the stages of the Filipino consumers' lives. The Company employs more than 3,200 men and women nationwide, and is among the country's Top 10 Corporations.
Driven by its purpose of enhancing quality of life and contributing to a healthier future, Nestlé today produces and markets products under some of the country's trusted brands such as NESCAFÉ, NIDO, MILO, NESTEA, MAGGI, BEAR BRAND, NESTLÉ and PURINA, among others. Its product range has expanded to include coffee, milk, beverages, non-dairy creamer, food, infant nutrition, ice cream and chilled dairy, breakfast cereals, confectionery and pet care.