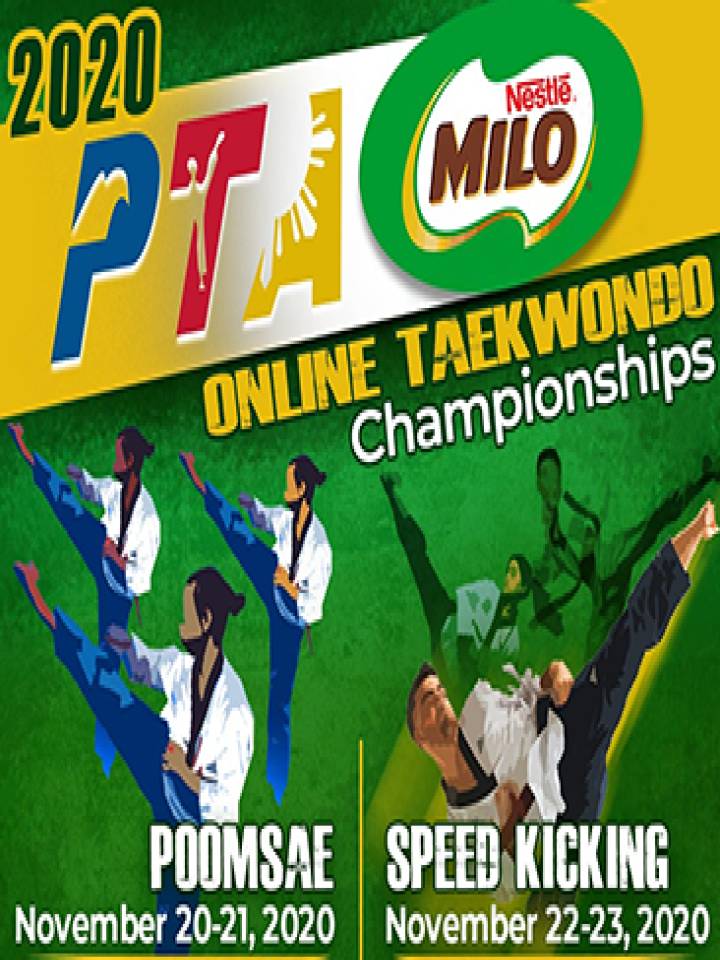 Almost 2,000 young athletes will put their taekwondo skills to the test as the Philippine Taekwondo Association (PTA) and MILO® Philippines stage the PTA-MILO® National Online Taekwondo Championships on November 21 and 22.
The digital arena is set where young jins from across the country will showcase their athletic prowess amidst the restrictions brought about by the pandemic.
Coach Rocky Samson, Secretary General of PTA, said that while the sporting world is still trying to navigate the new normal, the PTA has remained dedicated in providing athletes tools and platforms to help continue their sporting journey. "Through this competition, we are able to give our young taekwondo players the exposure to compete with their contemporaries, which is an important aspect to build their experience as athletes," he added.
PTA-MILO® National Online Taekwondo Championships will see over 1,100 athletes go head-to-head in the Speed Kicking division, while more than 800 kicksters will conquer the Poomsae division.
This year's championships will be broadcasted live on the PTA's Facebook page, YouTube channel, and website. Video submissions of registered participants in both Poomsae and Speed Kicking divisions will serve as their official entries to the competition, where it will be judged and scored real time. The top winners of the both divisions will each receive a MILO® electronic medal, certificate and electronic voucher.
"The PTA has been our indispensable partner in inspiring the youth to engage in sports and nurturing them to become future champions," said Lester P. Castillo, Assistant Vice President, Nestlé Philippines – MILO® . "We look forward seeing our athletes exhibit their sporting excellence and may this motivate them to continue their champion journey and aspire for greatness."
PTA and MILO® have shared a longstanding commitment to accelerate the sport of taekwondo in the Philippines. Driven to help young athletes to remain active and excel in sports, the two partners have pivoted their sports programs to digital as the main platform in response to the needs of the current health situation.
Earlier this year, both MILO® and PTA brought their well-known sports program to YouTube through the MILO® Sports Clinics Online, providing kids short instructional videos that they can do at home with the guidance with their parents. The MILO® Interactive Online Classes, on the other hand, offers a two-way learning approach where kids can directly interact with PTA's expert coaches through online sessions. As a culmination of these programs, the PTA and MILO® mount tournaments that will help kids demonstrate their progression and compete with their peers.
"Offering a program that takes a holistic approach to sports development will not only help parents raise their kids to be active and healthy, but also be well-rounded individuals," said Castillo. "MILO® will remain steadfast in driving this commitment, along with our trusted partners such as the PTA."
For more information on this year's championships, visit PTA's Facebook page (www.facebook.com/philippinetkd), YouTube channel (Philippine Taekwondo Association) or their website (www.philippinetaekwondo.net). Follow MILO® on Facebook (www.facebook.com/milo.ph) and Instagram (@MiloPhilippines)