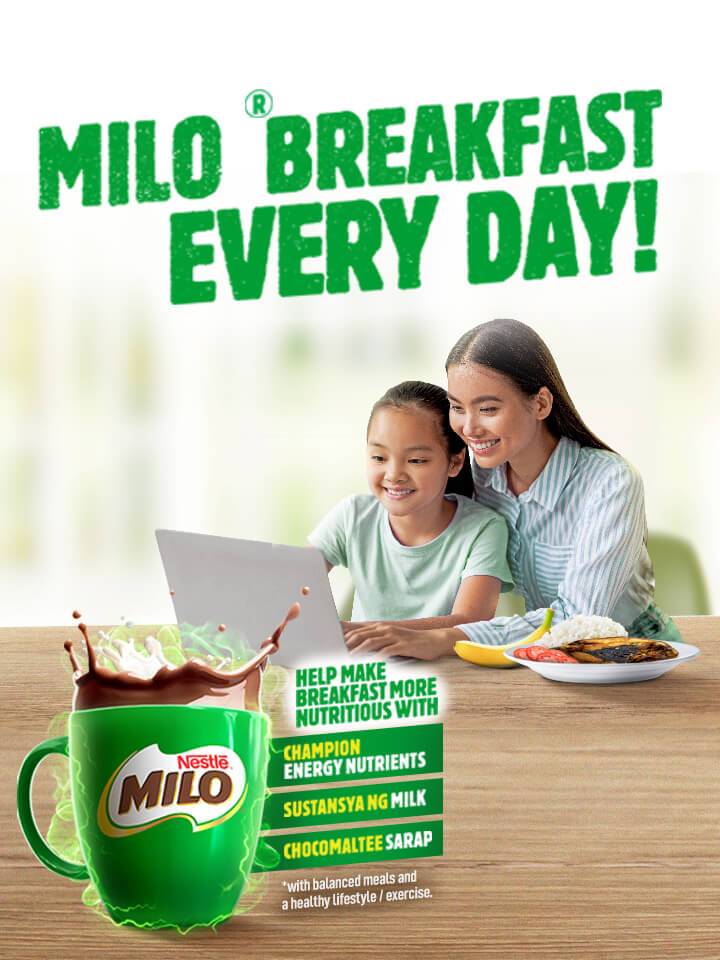 "Breakfast is the most important meal of the day." We've all heard this saying before, and for good reason! Breakfast's name comes from its role as the meal that breaks our nightly fasts. Our body uses energy in our bodies even while we sleep, so eating breakfast and pairing it with a breakfast drink like MILO® is a fantastic way to refuel our energy to perform well for a champion day!
Here are the health benefits your child gets when they eat breakfast:
Children who eat breakfast are more physically active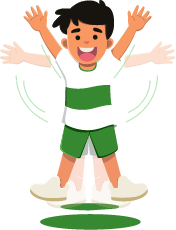 Nutritious breakfasts provide energy that kids need to fuel physical activity for schoolwork, play and sports. In a study, children are found to be more energized on days when they eat breakfast compared to days when they skip breakfast. Another study shows that children who frequently eat breakfast spend 30% more time on moderate to vigorous physical activity versus frequent breakfast skippers.  
Eating breakfast improves academic performance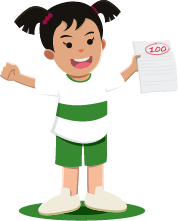 Research shows that eating breakfast regularly improves cognitive functions such as memory skills, alertness level, concentration and problem-solving ability. Eating the most important meal of the day regularly is also associated with higher test scores in reading, math and science.  
Breakfast eaters have good nutrition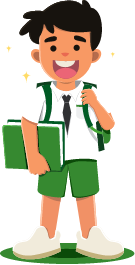 Compared to the breakfast skippers, breakfast eaters are better nourished and meet their daily requirements for nutrients like energy, protein, and calcium. Pair your kids' breakfasts with a nutritious breakfast drink like MILO® to meet children's energy and nutrient requirements. This will promote growth, brain development, as well as a healthy immune system. Studies also show that they have better eating habits and are less likely to become overweight, too! 
Breakfast promotes good moods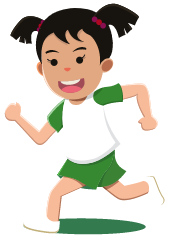 According to research, children feel significantly more cheerful and energized during days when they eat breakfast versus when they do not. Skipping breakfast leads to short-term energy deprivation, which affects the mood negatively. It also helps if their breakfasts are packed with nutrients like b-vitamins and iron, as kids deficient in these nutrients tend to have worse moods. An energizing and nutritious breakfast paired with a nutrient-packed drink like MILO® helps them get ready for a great day ahead.
According to Beatrice Reye, the Nutrition, Health, and Wellness Lead at Nestle's Dairy Product and Technology Center, "Breakfast is a key chance for our children to start the day with a significant contribution of energy and nutrients they need every day, and MILO® has a key role to play in order to deliver nutritious energy as part of a balanced breakfast".
Find out what's in MILO®'s Champion Formula!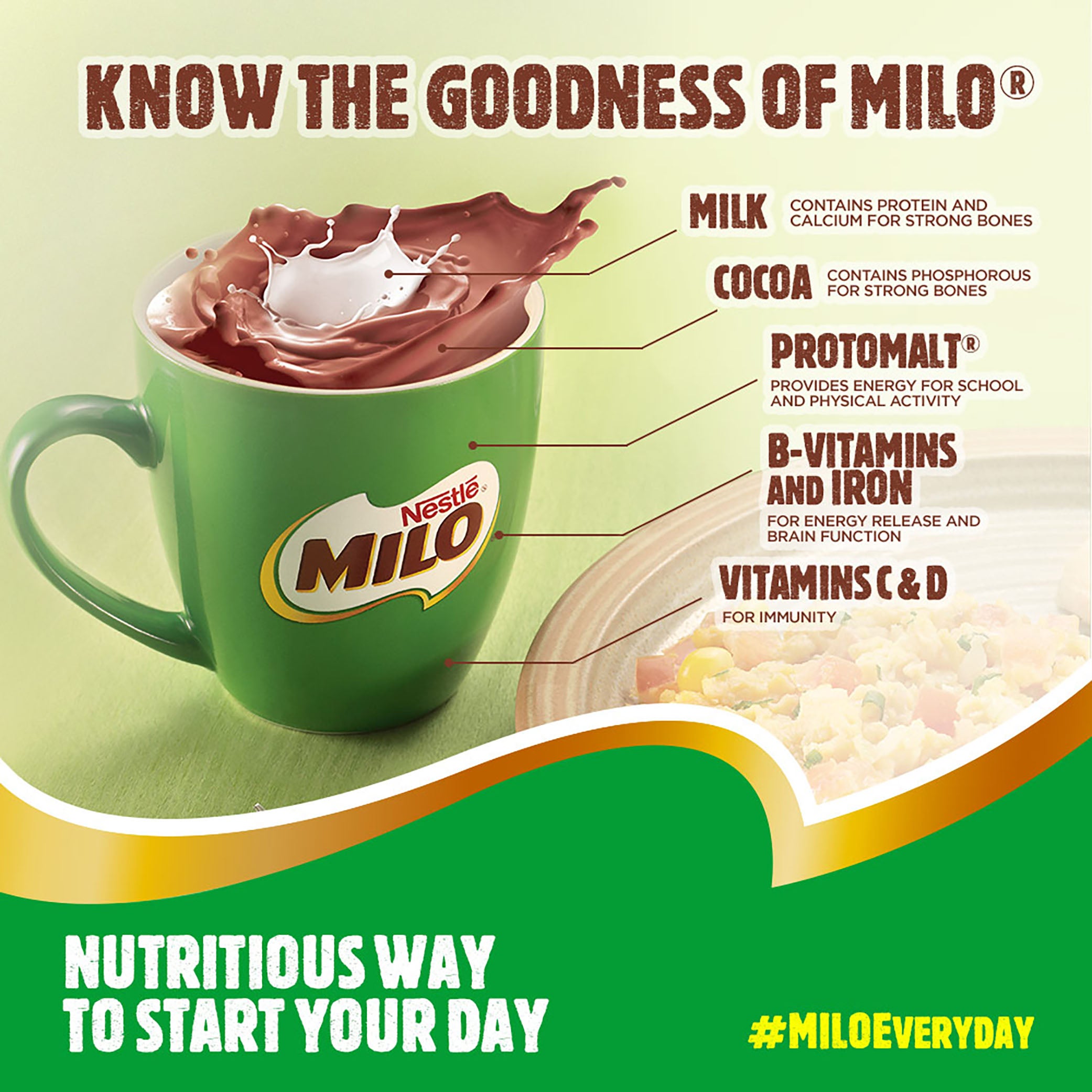 References: 
Duyff RL.  (2017).  American Dietetic Association Complete Food and Nutrition. (5th ed.). Houghton Mifflin Harcourt.
Hoyland, A., Dye, L., & Lawton, C. L. (2009). A systematic review of the effect of breakfast on the cognitive performance of children and adolescents. Nutrition Research Reviews, 22(02), 220. doi:10.1017/s0954422409990175 
Kral, T. V. E., Heo, M., Whiteford, L. M., & Faith, M. S. (2012). Effects on Cognitive Performance of Eating Compared With Omitting Breakfast in Elementary Schoolchildren. Journal of Developmental & Behavioral Pediatrics, 33(1), 9–16. doi:10.1097/dbp.0b013e31823f2f35 
Lloyd HM, Rogers PJ, Hedderley DI. Acute effects on mood and cognitive performance of breakfasts differing in fat and carbohydrate content. Appetite 1996;27:151–64.
Miller, D. P., Waldfogel, J., & Han, W.-J. (2012). Family Meals and Child Academic and Behavioral Outcomes. Child Development, 83(6), 2104–2120. doi:10.1111/j.1467-8624.2012.01825.x 
Rampersaud, G. C., Pereira, M. A., Girard, B. L., Adams, J., & Metzl, J. D. (2005). Breakfast Habits, Nutritional Status, Body Weight, and Academic Performance in Children and Adolescents. Journal of the American Dietetic Association, 105(5), 743–760. doi:10.1016/j.jada.2005.02.007
Schembre, S. M., Wen, C. K., Davis, J. N., Shen, E., Nguyen-Rodriguez, S. T., Belcher, B. R., … Spruijt-Metz, D. (2013). Eating breakfast more frequently is cross-sectionally associated with greater physical activity and lower levels of adiposity in overweight Latina and African American girls. The American Journal of Clinical Nutrition, 98(2), 275–281. doi:10.3945/ajcn.112.045849 
Szajewska, H., & Ruszczyński, M. (2010). Systematic Review Demonstrating that Breakfast Consumption Influences Body Weight Outcomes in Children and Adolescents in Europe. Critical Reviews in Food Science and Nutrition, 50(2), 113–119. doi:10.1080/10408390903467514