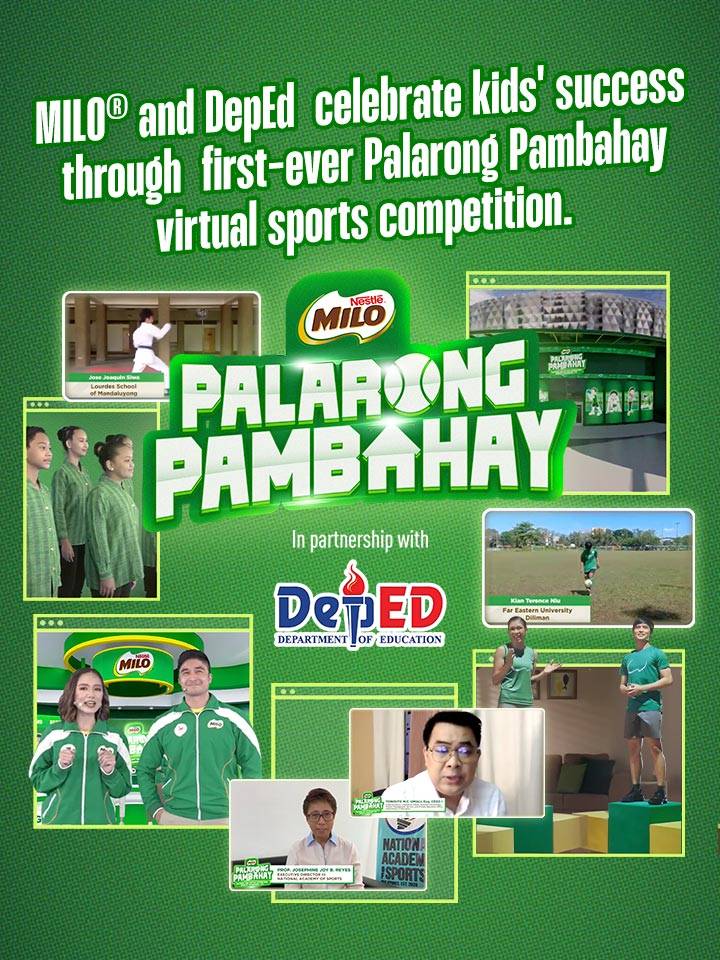 MANILA, Philippines 27 June 2022 - Beloved nutritious beverage brand MILO® Philippines and the Department of Education (DepEd) celebrated the recent success of its inaugural MILO-DepEd Palarong Pambahay. The joint effort was the first-of-its-kind inter-sport, inter-school virtual competition held on a nationwide scale. The 2-day live broadcast saw more than 700 participating schools and featured over 2,000 aspiring student athletes who showcased their skills and competed with pride for themselves and their school in front of 1.5 million-plus online viewers.
"It is our great pleasure to partner with MILO® Philippines for the first-ever MILO-DepEd Palarong Pambahay competition. Even though the pandemic has hindered most of our on-ground activities, our organization, as well as coaches, teachers, and parents, have worked tremendously hard to make this event a reality. This is quite a milestone and integral proof that nothing can stop the Filipino champion spirit and our winning culture of Bayanihan," said DepEd Undersecretary Tonisito M.C. Umali, Esq.
This groundbreaking online sports event opened doors for young athletes who showed their determination as they trained and competed from their homes, as well as their parent coaches who helped guide them along the way to overcome the many challenges of staying indoors.
"Nakita natin ang pagpupursige ng mga atleta at mga magulang na sumali sa Palarong Pambahay, dahil hindi nila hinayaang maging hadlang ang pandemya," said Carlo Sampan, MILO® Sports Executive.
MILO-DepEd Palarong Pambahay is just the latest of many creative and innovative programs now available from MILO® Philippines designed to provide kids with an outlet to stay physically active and teach them the important values learned from sports such as discipline, respect, and determination.
"Taekwondo helps me build my self-confidence so that I can attain success through hard-work and determination," said Justin Apura who hails from the University of San Agustin, Iloilo. Apura won gold in Taekwondo and has been competing in local and international competitions since he was 6 years old.
Jennie Villanueva, whose son Marvi Marcelo competed in Athletics, also shared: "Andun yung pag-strive niya na gawin niya yung best niya sa isang bagay para kahit hindi siya manalo, alam niyang nagawa niya yung best niya."
Faced with a new reality and challenges, MILO® Philippines and DepEd has proven to parents across the country that there are opportunities to adapt and continue their child's Champion journey at home. As schools and sports venues start to open up again, MILO® Philippines is excited to welcome back kids to continue to their Champion journeys in the upcoming MILO® Summer Sports Clinics. For more details on how to join, please visit the official MILO® Philippines website.
The following are the list of winning schools from the MILO-DepEd Palarong Pambahay:
Elementary
Dumangas Elementary School, Iloilo City (1st place)
Oranbo Elementary School, Pasig City (2nd place)
University of Baguio Laboratory Elementary School, Baguio City (3rd place)
Secondary
Rizal High School, Pasig City (1st place)
Manggahan High School, Pasig City (2nd place)
Tagum City National High School, Davao City (3rd place)
Biggest school delegation
Abellana National High School, Cebu City (1st place)
Oranbo Elementary School, Pasig City (2nd place)
Cebu City Central Elementary School, Cebu City (3rd place)
Get the official MILO-DepEd Palarong Pambahay shirt for FREE with the purchase of MILO products on Lazada and Shopee Philippines for a limited time only. Promo is valid while supplies last. Please visit this link for more details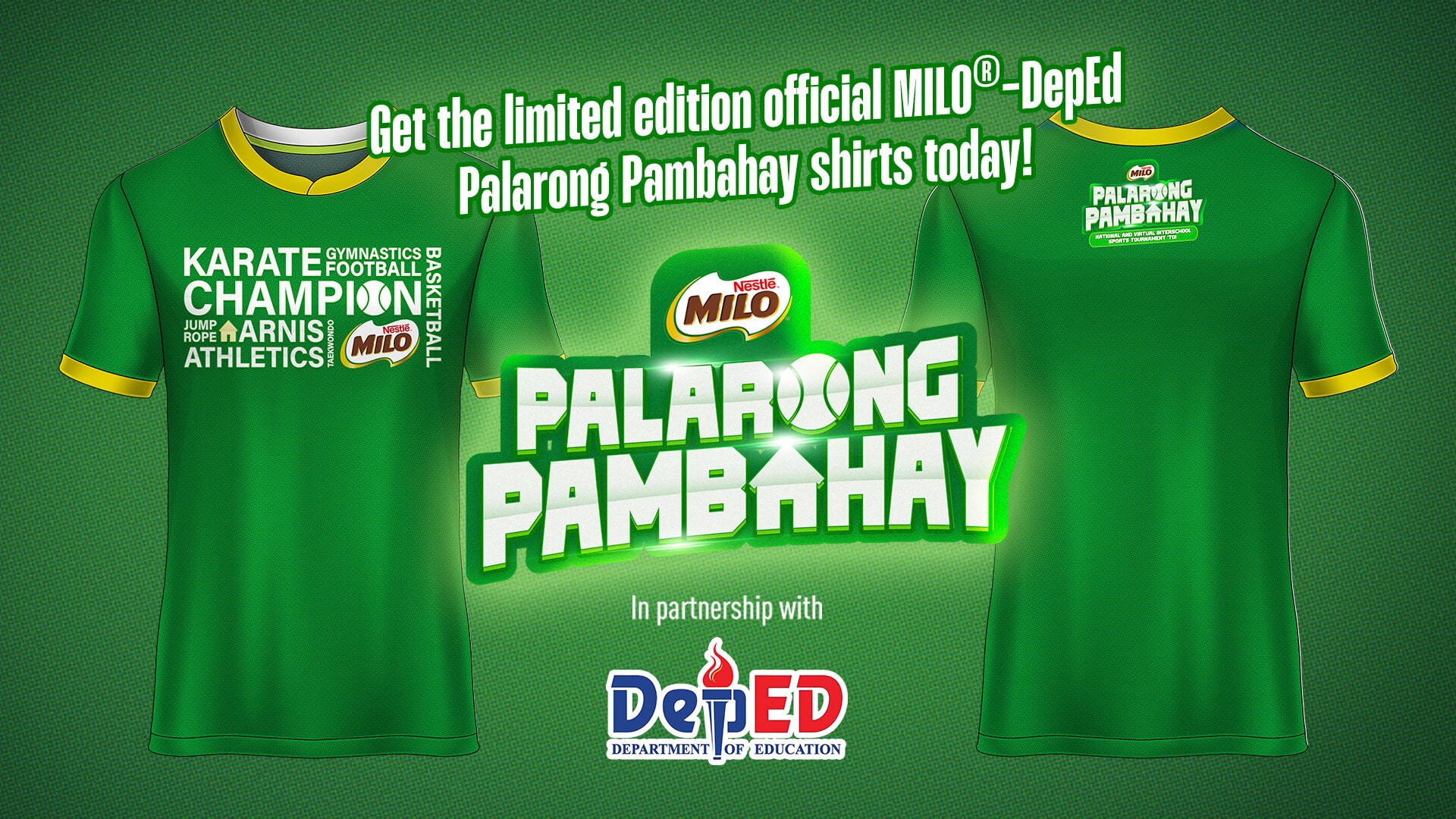 "Nakita natin ang pagpupursige ng mga atleta at mga magulang na sumali sa Palarong Pambahay, dahil hindi nila hinayaang maging hadlang ang pandemya,"