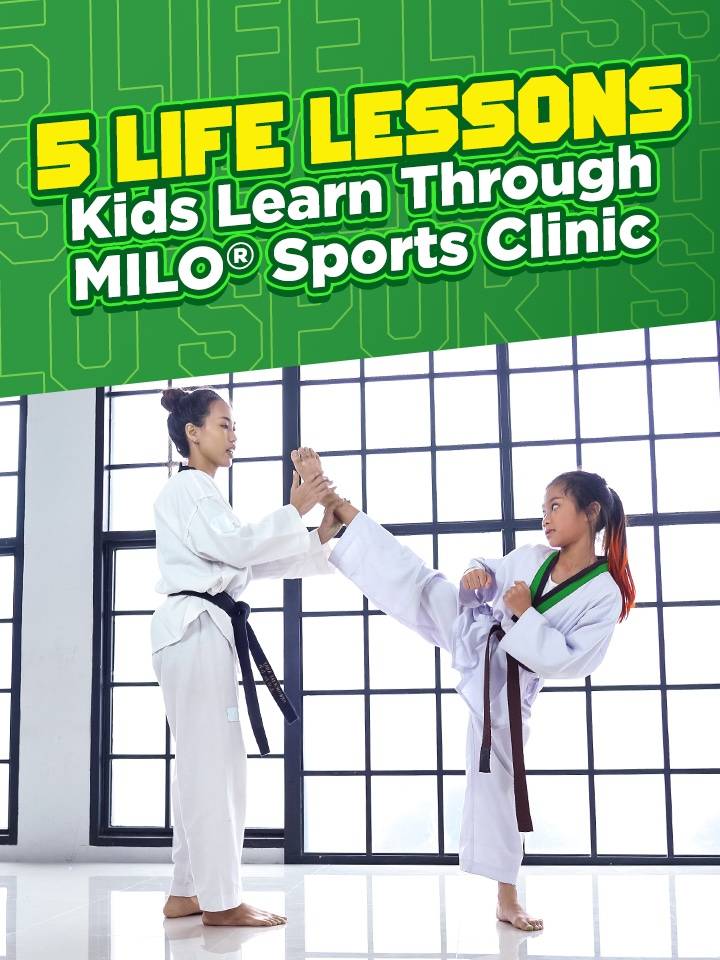 5 Important Values Kids Learn Through MILO® Sports Clinics
Playing sports is not just about physical fitness; kids gain a lot of mental and emotional benefits from participating in one. Participation in sports builds character and self-esteem and is a great way to make friends. Plus, kids bring these physical and psychological benefits with them through adolescence and well into adulthood. 
At MILO® Sports Clinics, character development is just as important as scoring a goal or winning a medal. We list five important values kids can learn through this trusted sports program.
1. Discipline to accomplish any task
Discipline is necessary to excel in sports. There's a lot of delayed gratification in sports — wins aren't guaranteed, talent needs nurturing, and skills require regular and focused training. Your child will understand that to succeed in any endeavor — whether in a sport or in life — they need to work hard at it, put in the hours to learn or train, and have the motivation and determination to continue even when they're not getting the results that they want. 
And it's not just your child's coach who can nurture this through helpful feedback and training, it helps when parents encourage their kids and become positive role models. As your kids learn to trust in their own abilities, they will push themselves to reach their goals. 
2. Teamwork toward a common goal
No one is an island, and this is especially true for athletes: their teammates, coach, and even their parents all have to work together toward a goal. 
In team sports like soccer or basketball, players need to play according to their strengths and weaknesses and also adjust to different skill levels and personalities. A coach's strategy only works when a team plays like a unit.
3. Camaraderie or 'pakikisama' with different kinds of people
Sports is an easy way for kids to make friends with fellow athletes of different ages. Having a friend group that was brought together by a common interest and goal helps kids learn how to respect and trust each other, and even resolve differences. 
This sense of togetherness is nurtured not just on the court, but also outside of it. Kids strengthen their bond with each other during training, team lunches or dinners, or even during locker room breaks during a game.
4. Respect toward rules and people
Being in a team, kids learn respect when they follow the rules of the game and listen to authority like game officials and coaches. It is also demonstrated when they respect their teammates and even opponents. 
And by learning this value, kids also learn to be gracious and humble and may even grow up to be good listeners and communicators. 
5. Grit to succeed in life
As the saying goes, "the journey is the reward" — and nothing else teaches this lesson as well as sports. Athletes realize that the lessons, skills, and experiences they got through their sports journey are what's truly meaningful. Yes, a loss is part of the game, but it's not the be-all and end-all in sports — or in life. 
Being gracious in defeat and having the grit to continue learning and improving are important lessons kids can take from sports and apply to other parts of their life.
 
Sports help keep kids physically fit and active and strengthen their immune systems. Also, participation in sports builds character and will also instill in them important values that they keep for life. Enroll your kids in MILO® Sports Clinics now, and give your kids the opportunity to improve discipline, build their self-confidence, develop camaraderie and teamwork, learn grit, and make lots of new friends.
For more information, visit https://www.milo.com.ph/sports-programs/why-sports.